Louise Redknapp quits Eternal reunion over LGBTQ row
Louise Redknapp has pulled out of an Eternal reunion tour, after claims two of the girl band's members refused to play LGBTQ festivals and Pride events.
The 1990s girl band - whose hits include Always & Forever and I Wanna Be The Only One - had been due to reunite next year.
But sisters Easther and Vernie Bennett allegedly refused to play certain dates, over objections to trans issues.
Redknapp and the fourth band member, Kelle Bryan, are understood to have pulled out of the reunion as a result.
Redknapp's publicist, Simon Jones, confirmed the development in a statement to Sky News.
"A message was sent to the team putting together the Eternal reunion stating that if it was to go ahead, neither Vernie nor Easther would perform at Pride shows or LGBTQ+ festivals.
"This was because the duo felt that the gay community was being hijacked by the trans community and they do not support this.
"Louise is a huge supporter and ally of the LGBTQ+ community and both herself and Kelle told the duo they would not work with anyone who held these views, and as such the reunion as a four would not be going ahead.
"The team behind the proposed Eternal reunion are gay - including management, PR and tour promoter - and neither myself nor any of the team would work with artists who held such views about the trans community."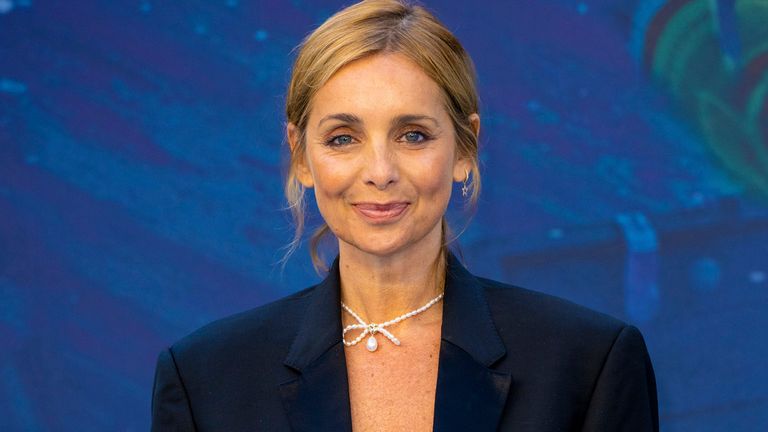 | Louise Redknapp. Pic: AP
Sky News has contacted Easther and Vernie Bennett for a response to the allegations.
Claims of the disagreement were first reported by the Mirror on Saturday.
On Sunday, Redknapp posted a picture of the Progress Pride flag to her social media feeds, captioned Always & Forever, which was the title of Eternal's first album.
Kelle Bryan shared a statement on Instagram on Monday, saying an Eternal reunion tour had been "discussed many times over the years", but that "as mothers, the right opportunity and timing" had been "tricky to arrange".
She added: "My stance and allegiances have always been that I am an advocate for inclusion and equality for all."
Eternal formed in 1992, as the UK's answer to hit American girl band En Vogue.
Their debut album Always & Forever was the first album by a girl group to sell more than a million copies in the UK, and they went on to have fourteen top 15 UK hits and four top 10 albums.
Redknapp left the group in 1995 to pursue a solo career.