Will Smith on Oscar slap: I was hurting, exploded after bottling up so much
Will Smith has opened up about his assault of the 2022 Oscar host Chris Rock.
Smith was guesting on the Daily Show.
Host Trevor Noah asked the Hollywood star "what the journey's been like since that day," beyond the media and public speculations.
"That was a horrific night as you can imagine," Will Smith remarked resting on the desk with both arms, fingers interlocked.
"There are many nuances and complexities to it," he added.
"But at the end of the day, I just lost it," he conceded throwing his hands in the air.
"I guess what I'd say is you just never know what somebody's going through," he began to explain.
Looking at the in-studio audience, Will brought up how audience members are seated by complete "strangers. Somebody's mother died last week, you know, somebody's child is sick, somebody just lost their job, somebody just found out their spouse cheated, you just don't know what's going on with people."
Getting to the point, he looked away from the audience to Noah who all the while was pensively observing the Oscar-winning movie star, and said: "I was going through something that night."
"Not that that justifies my behaviour at all," he admitted, adding what he gleaned from the infamous episode in his public life: "We just have to be nice to each other, man. It's [a] hard [life]."
The father of two confessed that: "The thing that was most painful for me is, I took my hard and made it hard for other people."
"It is like I understood the idea when they say, 'Hurt people, hurt people'," he said before dabbing his eyes with a tissue paper.
Trevor Noah, redirecting the conversation, gave Will Smith the opportunity to explain to the live and viewing audience that he acted unlike himself, contrary to rife public opinion that "the real Will Smith [was seen] in that moment."
Trevor citing a portion of Smith's book 'Will' recalled the actor revealing he grew up so afraid of conflicts.
"It was a lot of things. It was the little boy who watched his father beat up his mother," the rapper and actor reacted.
"All of that just bubbled up in that moment," he formed fists with both hands to emphasise.
"That's not who I want to be," he reflected and said twice, with Trevor interjecting and insisting his action that fateful Oscars awards night, was contrary to who he actually is.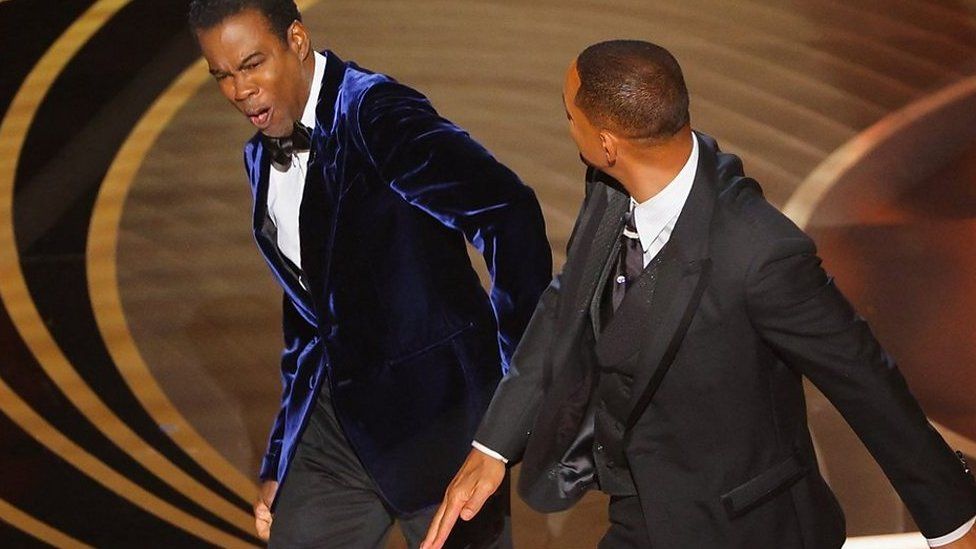 Will Smith slapped fellow actor and comic Chris Rock at the 2022 Oscars ceremony, Monday, March 28.
Will walked up stage to strike Rock in the face because of a joke the latter had made about his wife, Jada Pinkett's, haircut.
Subsequently when he got on stage to receive his award, he apologised saying, "I want to apologise to the Academy. I want to apologise to all my fellow nominees." It was a tearful acceptance speech for best actor as he picked up the first Oscar of his career, playing the father of tennis legends Venus and Serena Williams in the motion picture 'King Richard'.
Following the ceremony and slap incident, the 54-year-old was banned from attending the Oscars for 10 years. He has also resigned from the Academy, responsible for organising the ceremony.
According to Will, in the aftermath of the infamous incident, he has "had to forgive myself for being human."
"Trust me, there's nobody that hates the fact that I'm human more than me. I've always wanted to be Superman. I've always wanted to swoop in and save the damsel in distress.
"And I had to humble [myself] and realise that I'm a flawed human, and I still have an opportunity to go out in the world and contribute in a way that fills my heart and hopefully helps other people," he shared on the Daily Show.
Also, Will Smith revealed the night of his misdemeanour when he got home, his nephew sitting on his lap in the kitchen and holding the Oscar trophy wondered "Why did you hit that man, Uncle Will?"
"It was a mess," Smith recalled.
"I understand how shocking that was for people. I was gone. That was a rage that had been bottled [up] for a really long time," he further explained.
Will Smith's new movie 'Emancipation' is eligible for an Oscar. He has asked that the academy does not punish the movie crew because of his conduct earlier this year.