Newcastle United: How Eddie Howe masterminded the club's Champions League return
Newcastle United have secured a return to the Champions League for the first time in 20 years, just over 18 months after a Saudi Arabian-backed consortium bought out unpopular owner Mike Ashley.
In October 2021, Newcastle were winless and mired in another relegation battle until Eddie Howe came in to replace Steve Bruce as manager, and guided the club to safety, before a fourth-placed finish this year.
How has the club transformed so dramatically? BBC Sport looks into the key reasons.
Training - 'intensity is our identity'
One mantra - 'intensity is our identity' - adorns the walls at Newcastle's training base.
When Howe arrived at the club, a number of senior players believed they were not match-fit. The 45-year-old shook up the schedule from the moment he arrived, reducing days off, bringing sessions forward to an earlier start time and setting an example by turning up for work regularly at 6am. Players were soon reporting that they were "shattered" after training.
Howe educated himself after leaving his previous club Bournemouth in 2020, observing a number of football and rugby clubs including Atletico Madrid and Saracens. He also uploaded all of his training drills on to a digital format for maximum efficiency.
During the interview process for the job, he was second choice to Unai Emery, who rejected Newcastle in order to stay with Villarreal before eventually joining Aston Villa. But Howe had already impressed with the detail of his presentation, which included a plan for individual players to help them develop. One of those mentioned was then club-record signing Joelinton.

Newcastle were second bottom of the Premier League when Howe took over
The Brazilian's attitude was never questioned; his physicality and work-rate were tools Howe used to morph him from a misfiring striker to a combative midfield all-rounder.
Tactical instructions were made simple for every player, some who felt their Newcastle careers were finished before Howe came in, and these were reinforced daily. His methods were meticulous in detail but paid off because the players understood the simplicity of his plan and committed to it.
Sean Longstaff is one of the strongest examples of Howe's work in improving players; before the Carabao Cup final, the midfielder said Howe saved his career at the club, and there was a time when a move to Everton, to join former boss Rafael Benitez, was close.
To improve matters further, the club invested in upgrading the training ground, with a new dining room and a building which includes a hydrotherapy pool and changing rooms.
Further additions include a tennis court and artificial pitches, while plans are in place for a new base and the search for land is under way.
Recruitment - a considered approach
Before director of football Dan Ashworth arrived in June, minority shareholders Amanda Staveley, Mehrdad Ghodoussi and Jamie Reuben worked alongside head of recruitment Steve Nickson and Howe. Reinforcements were needed to aid an initial Premier League survival bid in January 2022.
Despite the improved transfer budget available to the club since the takeover, it was character and a willingness to put the team first that remained the most important factors in any deal.
Howe focused primarily on bringing in British or Premier League players, including Dan Burn from Brighton, Matt Targett, initially on loan from Aston Villa, Burnley striker Chris Wood and Kieran Trippier from Atletico Madrid, whom he had previously worked with at Turf Moor.
The seeds of that move were sewn when Howe had watched the Spanish club train months earlier and the England defender informed him then of his desire to move closer to home for family reasons.
Nickson had already scoured Europe for the best talent he could find. Dutch centre-back Sven Botman's name was mentioned in early meetings, but he couldn't be lured from Lille until the summer, alongside Nick Pope and Alexander Isak.
Instead, Brazil international Bruno Guimaraes of Lyon, a creative, tempo-setting midfielder, arrived late in the first window, citing the club's ambition as the reason he chose Tyneside over a number of other options.
Nobody, including Trippier and Guimaraes, had relegation clauses in their contracts, nor did they break the club's wage structure, with the former taking a pay cut.
Selling the project - backed by a lot of money - helped steal a march on rivals, but there was also an element of gamble, too. Everybody needed to buy in.
When Swedish striker Isak, then 22, signed from Real Sociedad for a club-record £63m, some at senior level doubted whether he was worth the outlay coming off an average season, when he scored six goals in 32 games.
Initially, the deal went quiet but both parties understood they were buying into each other's potential, and he now works as a blueprint for future signings.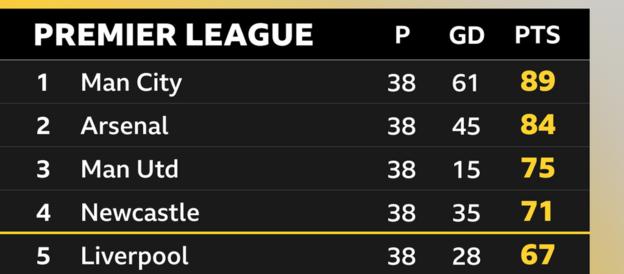 Newcastle have finished inside the Premier League's top four for the first time since 2003 Tactics (including mastering the 'dark arts')
Howe was questioned over his defensive record at Bournemouth, who were relegated in his final season with them, but this season Newcastle have conceded the joint least amount of goals in the league with Manchester City.
Nine successive clean sheets earlier in the season were evidence of Howe's defensive evolution, and he has moved away from a 4-4-2, which he favoured on the south coast, to a more proactive 4-3-3 with inverted wingers.
Guimaraes dictates the play from deep, but Newcastle also employ an effective counter-press, swarming teams with their new-found intensity. That allows the defence to play a high line despite neither Botman nor fellow centre-back Fabian Schar possessing great pace.
Done properly, Newcastle's approach stops teams turning them over, but the space behind the defence is covered by Pope. If teams do attack the box each defender, except Trippier, stands at over 6ft (1.8m) tall, which makes it difficult to exploit them.
There has been a concerted effort inside the club to become more streetwise and 'manage the game' more. Howe has publicly downplayed similarities to Atletico, but the dressing room has enjoyed the response they have received from certain opposition, with the 'dark arts' viewed as crucial if they are to succeed at the top level.
"We're not here to be popular and to get other teams to like us," said Howe in January after a 0-0 draw at Arsenal. "We're here to compete."
Togetherness - a city united
Fans had felt largely ignored during the Ashley years, with the supporters' forum meeting that was set up previously coming three years before the takeover.
In 2020, when the deal initially stalled due to questions over piracy of Qatar-based BeIN Sports' Premier League coverage in Saudi Arabia, Staveley contacted the Newcastle United Supporters Trust (NUST) to reaffirm her commitment to buying the club.
In April last year, the club and Trust met again to discuss engagement. A full-time supporter liaison department has been created and there are discussions over a fan board too.
Wor Flags, a fan organisation responsible for the impressive banner displays at home matches, have been present since the change of ownership, having gone on hiatus for the final two years of Ashley's ownership, while club legends are being welcomed in for talks over ambassadorial roles.
The way Howe has incorporated those players on the periphery of the first team has also been crucial.
Experienced winger Matt Ritchie has played just seven league games this season but remains in the senior leadership group alongside Trippier, Burn, Callum Wilson and club captain Jamaal Lascelles, and Newcastle are keen to offer him a new contract when his current one expires this summer.
The future - what next?
Newcastle have whittled down a shortlist of targets and are looking for quality over quantity, with four or five recruits this summer seen as an ideal number. They will not break their existing financial structures, and meetings over the budget took place last week.
A deep-lying central midfielder is high on their list of priorities, and sources in England and France suggest interest in Nice's Khephren Thuram is genuine. Leicester's James Maddison, for whom Newcastle saw bids rejected last summer, is still admired.
Financial Fair Play will be a factor in summer planning. Newcastle have spent a lot of money without recouping much over the past three windows, and they need to be smart sellers if they are to avoid breaching any rules.
Allan Saint-Maximin is a potential asset who could be moved on for a good fee; the Frenchman has started 11 league games this season and there is a sense that it may be the right time to cash in on him.
Loan players including Isaac Hayden and Jeff Hendrick will be moved on, but there is a desire to keep hold of the experience offered by goalkeeper Martin Dubravka and defender Paul Dummett, while the club are keen to tie down Guimaraes to a new deal.
The club are now several years ahead of where they expected to be, but they will have to adapt to new expectations and keep pushing if they are to achieve the success they are targeting.